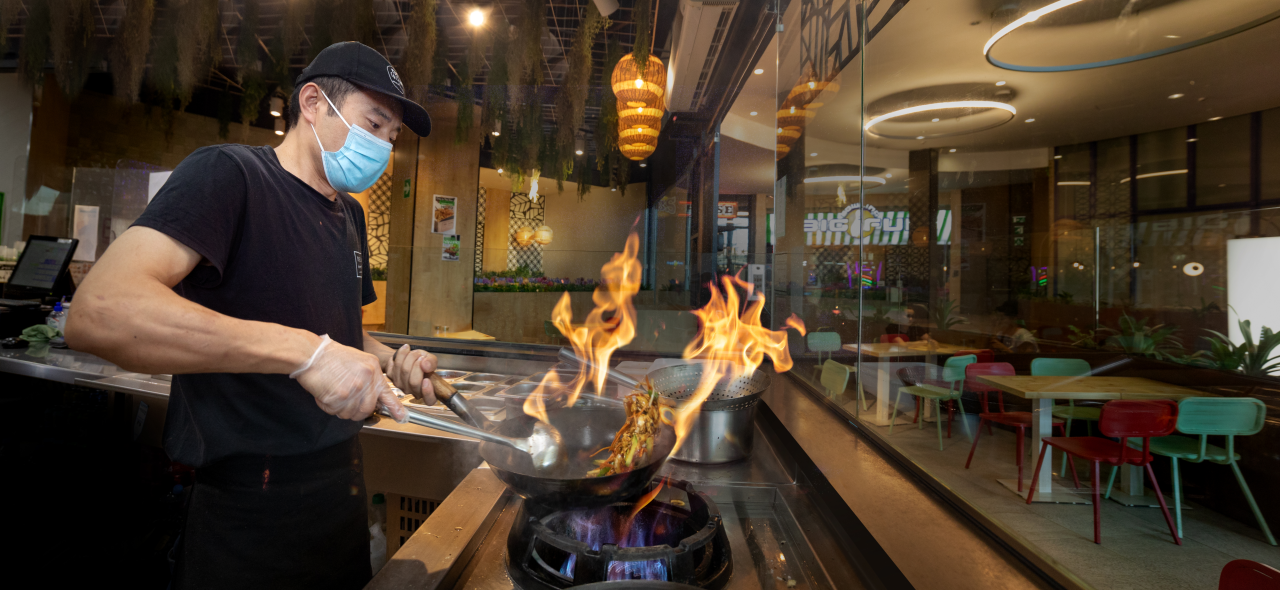 Our story
The idea of Pure Cuisine began to take shape in 2008 when, after more than 10 years of experience in the càtering industry, a chinese young couple , together with a business partner, decided to renew the concept of their Asian restaurants in Madrid, Barcelona and Saragossa.
They began a search for a different gastronomic and business proposal that led them to develop a new concept of fast food, with fresh ingredients and healthy recipes. A variety of options from Thai, Japanese and Chinese cuisines, delicious and at affordable prices. Its motto, Asian Healthy Food.
As a result of this search, in 2012 the first Pure Cuisine restaurant was born in the Diagonal Mar Shopping Center in Barcelona.
The name, Pure Cuisine, arises with the aim of finding an international terminology that represents cuisine in its purest form.
Where we want to go
Asian cuisine has become popular all over the world thanks to its exotic aromas and flavors, and Pure Cuisine wants to make its contribution too: its proposal ranges from the most popular dishes to the lesser-known ones (and they are delicious!), so that everyone who enters one of its restaurants finds a dish that they love.
Since it started, Pure Cuisine has opened 21 restaurants in Spain and 5 in France. Among them, they have two franchises in Madrid.
How we want to do it
For Pure Cuisine, the most important thing is to maintain the values for which this family was created:
Healthy gastronomy: We combine the ancient culture of Asian cuisine with Western ingredients and cooking methods. In our dishes you will find vegetables, legumes, fish and meat, which makes them healthy and balanced.
Fresh and authentic ingredients: the protagonists of our unique flavor are the always fresh ingredients that make up our dishes. In addition, we have several ingredients imported directly from Asia so that our recipes are 100% original.
Show cooking: our main dishes are prepared at the moment and live, mixing the ingredients selected by our clients with the magic of the traditional Asian wok.
Fast casual: it implies speed in the preparation, that is why our dishes can be prepared in less than 3 minutes. Thanks to this, the prices of Pure Cuisine are accessible to all audiences.
Pure Cuisine

through the years
2012
Opening of the first restaurant in Barcelona: Diagonal Mar
2014
We open the second restaurant and the first kiosk in Barcelona.
2015
Pure Cuisine becomes a franchise
2016
We move to the current headquarters in Barcelona
2017
We grow in Madrid with five openings
2019
We start exploring international territories
2020
We arrive in Valencia and Bilbao, and open kitchens for delivery in Madrid and Barcelona
2021
Pure Cuisine arrives in France. Our desire to grow does not stop!